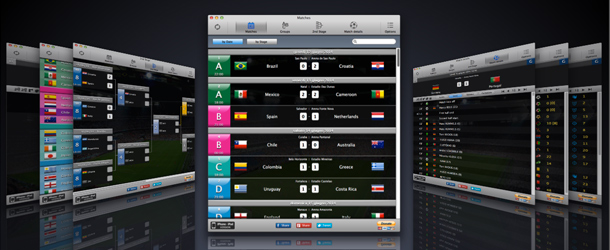 iCup 2014 Brazil for desktop (Mac, Windows, Linux)
The FIFA Brazil 2014 soccer World Cup competition into your desktop and in your language!


SCREEN-SHOTS:

Version 1.5 is ready:

- added referee data
- results of matches still in progress are highlighted
- added Hungarian, Serbian, Maltese and Portuguese Euro languages
and there is one more thing...
- events could show a link to a web resource for additional details



Note: experimental feature with availability not guaranted and subject to change


MEETS OUR DATA UPDATE NETWORK:
The Brazil 2014 World Cup started and the days after, many similar apps got very bad reviews about the data update reliability and speed.
To ensure a good service I carefully designed and deployed the update system with speed and scalability in mind.
The image below should explain why you will not miss a results update... hopefully ;-)
Ok, now you've a better idea of why I'm pleased to receive even a little donation ---->>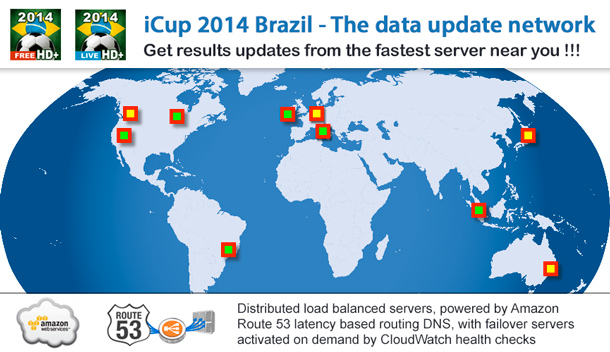 VERSIONS COMPARISON AND DOWNLOAD LINKS:



Mac





Windows





Linux


Version
LIVE
FREE
FREE
FREE
FREE
OS and platform
Mac OS X 10.7 or later

Intel
Mac OS X 10.7 or later

Intel
Mac OS X 10.4 or later

Intel/PowerPC
Windows XP SP3 or later
any recent x86 distribution
(details...)
Download links


v 1.5




v 1.5




v 1.5




v 1.5




v 1.5


Live results
Calendar
Groups data
Stage 2 table
Social networks comments
Multilanguage support
Retina display
Detailed Data
(match events, formations, statistics)
donationware*
donationware*
donationware*
Audio Kit
(national anthems and stadium sound effects)
Premium update servers

(*): Even a small donation will help us to pay for servers and bandwidth. All donors will receive an e-mail to activate all extra bonus app features.


MAIN FEATURES:
With this program you can view matches schedule, groups and second stage table and detailed information about scorers, events, statistics and formations of every match. The online update get real-time data during matches time.
Fully localizable on the fly in about 30 languages (use the language menu into the option panel)

Exclusive flexible user interface that adapt the data size to the window dimensions
Searchable matches calendar also groupable by day or stage
Graphical visualization of groups and 2° stage
Support for the conversion of the matches dates and time based on your local timezone and your system format.
Direct linking for commenting the results into your preferred social network (Facebook, Google+ and Twitter)
Proxy support (basic and digest authentication method supported)


SYSTEM REQUIREMENTS:
Macintosh
LIVE version: Mac OS X 10.7 or better with Intel processor
FREE version: Mac OS X 10.4 or better with Intel or PowerPC processor


Windows
Windows XP SP3 or better


Linux
i386 platform (require GTK+ 2.x and libstdc++.so.6). More info and install details here.

Looking for a mobile version of this app?

Try our iCup 2014 Brazil LIVE & FREE iOS app available for iPhone, iPad and iPod Touch.




About the author
Pier Luigi Covarelli ::
E-Link Web Solutions :: www.e-link.it :: Perugia - Italy
- cross-browser compatible and W3C standard compliant web sites
- graphics and multimedia
- Custom FileMaker database solutions
- Custom RealStudio software developement
- PHP/MySQL web dynamic apps
- iPhone/iPad app
- MacOS and Linux network management and consulting
Go to iOS version >>

Latest news
20 june 2014
The app received a very good feedback from many users, but there is a noticeable exception: the AppStore where I'm collecting some strange bad reviews, so
these are explanations for some of you
!
17 june 2014
Version 1.4 available with all desktop platforms.
(updated with last minute players changes, fixed bug in group F data, added some languages and implemented an experimental one more thing...).
13 june 2014
Version 1.3 available only for Linux that fix a bug on 64-bit system.
Linux
installation instructions page
created.
11 june 2014
Follow us and
write something
into your preferred social pages.
You can olso try to get FREE redeem codes for Apple AppStore.
Facebook
|
Twitter
|
Google+
.
8 june 2014
Version 1.2 available with all official Barzil 2014 players.
Be sure to update to get correct scorers during competition.

15 may 2014
Software Award 5/5 stars
just received from
soft82.com
---
---
Supported Languages
(version 1.5)
Status
English
Italian (Italiano)
Spanish (Español)
thanks to Luca Marcaccioli
Spanish - México (Español - Mexico)
thanks to Jorge Gutiérrez
Spanish - Argentina (Español - Argentina)
thanks to Leonardo Daniel Pane
French (Français)
thanks to Luca Marcaccioli
German (Deutsch)
thanks to Stephan Staub
Swedish (Svenska)
thanks to Tobbe Sunesson
Danish (Dansk)
thanks to Andreas Steinmann
90%
Russian (Русский)
thanks to Евгений Троицкий
Portuguese/Brazilian (Português/Brasileiro)
thanks to Fernando Tidei and Paulo Neto
Portuguese/Euro (Português/Euro)
thanks to Dick Spade
Vietnamese (Việt)
thanks to Thanh Trực
60%
Finnish (suomi)
thanks to Juha Metsäkallas
Norwegian (Bokmål)
thanks to Terje Christiansen
90%
Slovenian (Slovenščina)
thanks to GRINIT d.o.o.
Hebrew (עברית)
thanks to Avi Laredo
90%
Romanian (Română)
thanks to Razvan Florescu and Emanuel Ciornei
Dutch (Nederlands)
thanks to Francis Willems and Dirk Cleenwerck
Turkish (Türkçe)
thanks to Kıvanç Karaca
Croatian (Hrvatski)
thanks to Tomislav Kordaso
Arabic (العربية)
thanks to Hatim Al Sum and Mahmoud Al Nagar
Greek (Ελληνικά)
thanks to Γιώργος Λιαπάκης and Παρασκευούλα Νταή
Polish (Polski)
thanks to Bartosz Malczewski
Bulgarian (Български)
thanks to Atanas Petrov and Presian Yankulov
Ukrainian (Українська)
thanks to Vasyl Stakhyra
Chinese (Traditional) 中文(繁體)
thanks to Eric Kwan
90%
Chinese (Simplified) 中文(简体)
thanks to Eric Kwan
90%
Slovak (Slovenčina)
thanks to Miroslav Kovacik
Georgian (ქართული)
Thanks to Giorgi Papiashvili

Czech (Česky)
Thanks to Petr Sipek
Persian (فارسی)
Thanks to Ardalan Asgari
Armenian (Հայերեն)
Thanks to Микаел Костанян
Hungarian (magyar)
Thanks to Zoltán Salek and Zoltán Kraus
Serbian (Српски)
Thanks to Joshida Kagero
Maltese (Malti)
Thanks to Daniel P Bartolo
Japanese (日本語) language needed !
Someone interested?
0%
Korean (한국어/조선말) language needed !
Someone interested?
0%

= available


= available with next appstore update


= under developement (don't email us)
Note
: You didn't find your language into the list or you want to improve an existing localization?
Click the (+) Add your language button to contact us: we will send you a little text file to translate (from english) and with the next AppStore update you'll enjoy a fully localized app.